special price
on THE SPIRO® CARD L2 VERSION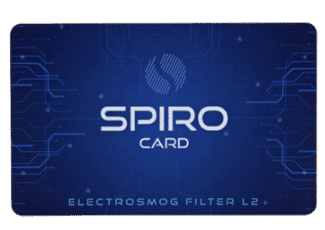 *Valid until stock lasts.
THE WORLD'S LEADING
EMF PROTECTION TECHNOLOGY
RADIATION PROTECTION FOR
HOMES
OFFICES
PETS
EHS
WIFI
CELL PHONES
ATHLETES
CHILDREN
We have packed a series of solutions to meet all of our users' needs. These are some of our client's favorite categories. 
STROOM MASTER®
Our 2-in-1 filter for Dirty Electricity and Radiofrequency
SPIRO® DISC ULTRA
Our biggest solution made for stronger levels of pollution
"Before SPIRO® products, I was unable to bear the wifi"
"I used to get sick to my stomach and get headaches and mood swings from being around wifi. Before SPIRO® products, I was unable to bear the wifi on for more than an hour, let alone an entire day or two days"
"I recovered my health using SPIRO®"
"I had symptoms of Chronic Fatigue and severe headaches with no known cause. I thought I had Fibromyalgia, however, then I discovered that my symptoms were caused by electromagnetic contamination, I had never heard of that and with NOXTAK I got an answer: Electro-hypersensitivity. With Noxtak technology at home, now I have regained my strength and the pains are gone, I feel good! Wherever I travel, I carry my Spiro Disc and the Spiro Card on my phone. "
"I feel better overall"
"Since I started using SPIRO®, my sleep quality improved enormously. I'm also experiencing way less irritability, headaches, and I feel better overall."
"SPIRO® helps you to protect your space from EMF"
"I recommend Noxtak for all your needs in the electromagnetic contamination prevention space"
"I feel now like when I was much younger"
"I have been drinking the water that is in a glass container I placed on a square made from chopsticks that are on the disc. I thought this would not put so much weight on the disc as I do not want to damage the disc in any way. I can tell many good effects. My thinking is more alert. I always thought of myself as alert, but I feel now like when I was much younger. My stamina is greater. I do heavy physical work in my yard and now fatigue much less. My sleep is more efficient. It is wonderful to have water that remembers how it was before mankind messed it up. Thank you. I support your work wholeheartedly."
"Quality guaranteed"
"A super spectacular product and excellent service. "
SPIRO® HAS BEEN
INTERNATIONALLY RECOGNIZED & AWARDED